Hello everybody! Thank you so much for hanging in there with me and with mine and Dawn's posting for our "Walking the Blade" character. Life has been hellacious over the course of 2020 – and 2021 has not been any better.
Both of my normal writing partners are very busy professionally and personally. I am trying to get passive income going and also get myself in a position where I can earn enough to get by on writing. I'm also the family Uber driver and the one in charge of hustling to get the house ready to be sold. I don't want to bore you, but – it's a crazy time!
I am currently updating our Untapped Sound website, please visit that if you love music! I am choosing an eclectic bunch of artists that are not always on mainstream radio and writing articles about them there, leaving their links along the way. I am also answering questions people have about music and the music industry. Why? Because I've always been curious and writing about music makes me happy.
I have submitted the manuscript for the first novel in "Walking the Blade Series" to an editor. Her schedule is tight, though… so it won't be done until Autumn. I kind of can't wait, because I want to get back to it, finishing and polishing. I plan on publishing it this year (fingers crossed). Still eyeing self-publishing unless I find a great LGBTQ publishing company willing to take it on. I feel like being part of the community and also writing about these themes – that's the only way it could be handled appropriately. Unless someone convinces me otherwise. Am I being picky… maybe. Just a teeny bit.
We are also looking into serial releases through Amazon's Kindle Vella. This is a big possibility for our smaller stories that focus on various urban fantasy characters that orbit Gabriel and Jean-Michel.
I am considering also using my knowledge and talents as a spiritualist of the Celtic paganism path to offer readings via either Patreon or Kofi. I use Ogham Staves much like a tarot reader would then take a reading that a person needs using those and a few questions. I used five sources for my knowledge, along with my intuition and writing to make a page-length reading. The process takes about two hours total to accomplish. I can then either print it for them or type it up. What do you think? I've had several friends tell me I should do this, including my best friend, my hubs.
I did most recently finish two short works – The Shield Road by Dewi Hargreaves and For Love, and for Cruelty by Elizabeth Estochen. I've posted one review, the next comes out after next weekend. Oh! The card I used for a bookmark is a Lora Zombie goodie…
Anyway, I hope you are all doing great, and I will be posting a new Prequel Post for the website tomorrow.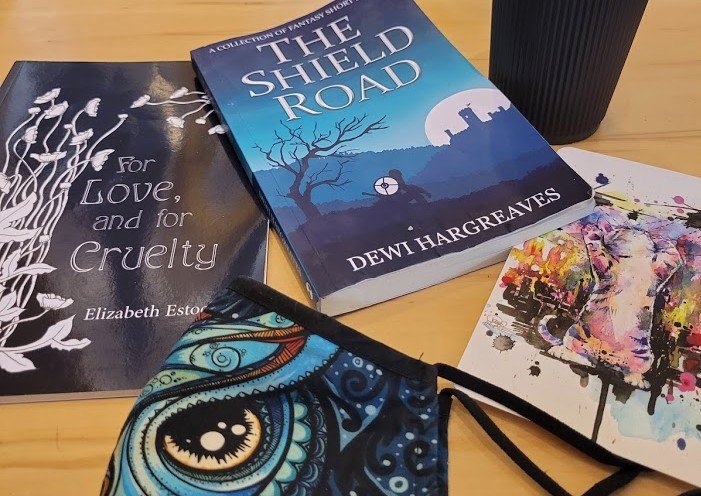 ---
"The featured image was a picture taken of a downtown here in North Carolina at sunset…"

photo by Rachel Adams